We will provide the best solutions for the development of "outstanding talents" and the creation of a "competitive and healthy organization" and contribute to the creation of an organization where "joy of working" and "happiness to live" can be felt.
In addition, "outstanding talents" are those who contribute to the growth of an organization by enhancing the value of their work according to environmental change and achieving the best result by collaborating with others in order to keep bringing about innovation. In order to develop such talents, it is necessary to create an organizational culture that works hard with ambition, and leadership is essential for this purpose. Now is the age in which planned and continuous human resource development is required. . (Excerpt from the message from the representative)
Corporate symbol of a turtle, was designed in 2013 (on our 50th anniversary), and is meant to embody the DNA that we have inherited through the Principles.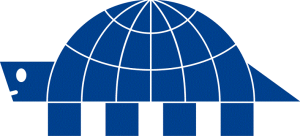 It was created in April 2013, on our 50th anniversary.
Turtles are small but they live long and are said to be very lean and also known for their longevity. As such, the symbol represents our ideal image of everyone optimally contributing to this long-living, sustainable organization. The image of the Earth (the globe) is combined with the turtle's shell, from our hope to globally develop "outstanding talents" and "competitive and sound organizations".
We are aiming to be an organization that lasts forever and continue to grow, even if the growth is slow, as symbolized by the words "Turtles live for 10,000 years".
Because each person has his/her own personality, BCon does not regard talents as a resource, but as capital. We respect our employees each as unique individuals, and aspire to bring them joy of working and happiness of living.
BCon thinks that trustworthy relationship between people as an adhesive is very important. This is why, we put emphasis on human relations and cultivate them with time and effort. Although it is a time-consuming process, it is an important process for us to be a growing and lasting organization.
We would like to be a company that will move forward steadily even if slowly by putting emphasis on steady steps like turtles.
BCon does not aim to be a large organization or company like mammoth or elephant. We highly value the idea of "stay small, but lean and strong, rather than aiming at becoming larger and wealthier" and have always stayed as a small but robust company. We are maintaining our organization by a small work force in order to keep high standard of service and added value.
We think it highly important for our sales team to be in direct contact and always be present with our clients. Over the years, through our strong relationships with our clients, we have been able to build new relationships with their reference. It is that trust we believe in, not the advertisements on mass media, and we continue to take such steady steps.
"It is said that wild turtles have little excessive fats."
At BCon, all employees are work hard and are trying to increase productivity.
Each employee at BCon is working at his/her own initiative. This is based on the idea that "a truly professional team can be created only by combining independent players". At the same time, all employees are trying to maintain capability to support others in times of need.
At BCon, all managers (including the senior management team) play active roles as playing managers. Everybody is aware of the necessity to increase productivity. Thus we have created an organization that enables quick decision-making and actions.
The turtle's shell depicts the image of our globe, with the intention of supporting the creation of organizations and people who can be active in the global society. It reflects our mission of fostering "outstanding talents", "providing the best solution for creating a competitive sound organization", and "contribution to the creation of an organization that can brings about the joy of working and happiness of living.